My Team
The Team
"Great things in business are never done by one person; they're done by a team of people" - Steve Jobs
Jaime M Seidel
Associate Financial Representative
Office 609-750-7732

Jaime has been Mark's team since April of 2012.  Jaime uses her talents to provide professional, customized, client-centered service to all of our clients.  
Jaime was born and raised in Tampa, Florida.  She is a 2010 graduate of Rutgers University and earned a Bachelors of Science degree in Exercise Science and Sports Studies. Prior to joining Mark's team, Jaime was the Director of Marketing for a New Jersey based "Chick-Fil-A". 
Jaime lives in Ewing, NJ with her husband, Jon.   She is an avid sports fan, and especially loves hockey! Her favorite team is the Tampa Bay Lightning.  She also enjoys spending time with her family and friends, and volunteering at her church. Jaime is a member of their leadership team, assists at Sunday services and is a participant in the church's various community projects.
How can Jaime help?
Schedule appointments with Mark
Provide general client service
Provide new information to update your financial plan
Expedite policy owner requests
Answer general questions/inquires
Help with online access
Update your contact informaiton
Answer billing quesitons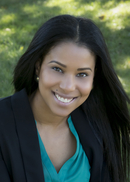 Brittany A Hendricks
New Business Coordinator
Office 609-750-7734

Brittany joined Mark's team as an Underwriting Coordinator in May, 2013. Prior to joining the team Brittany worked as a coordinator in public relations, media and consumer relations. With a talent for organization and working in fast-paced environments, Brittany naturally and enthusiastically adapted to her new role on the team. Brittany plays a key role in providing clients a positive experience when they first begin working with Mark. .
Brittany graduated from Spelman College in Atlanta, GA. She has a passion for connecting with people and helping them achieve their goals.
Brittany currently lives in Lawrenceville, NJ. She enjoys spending time with her 3 year old daughter, Sky Elizabeth, as well as her family and friends. Her interests include traveling, exploring her creative side, and organizing closets for her friends!
How can Brittany help?
Assist in completing an application
Answer questions about the status of your application
Answer questions about the underwriting process
Schedule or reschedule your paramedical exam